December 16, 2004
CARDS!
Yes. Cards! The Xmas kind!
Email me your address at goldie01 at bigpond dot com, and you too can get get a sneak peak of Santa surfing here DownUnder.
Yes, even my foreign friends! But let me know now so it gets to you in time... I've left it a bit late this year ;)
December 05, 2004
sexy in my own skin
I must say... while I knew my Xmas skin was just a wee bit racy, I had no idea how much attention it would capture (thanks erosblog and fellow MuNuvians Attila and Harvey). Seriously! Not that I don't love it of course, being the DQ that I am ;).
All I told Julie (of Blogmoxie fame) back in October was that I wanted to 'moon' Xmas. I'm a bit of a bah humbug you see, as this entry from this time last year will attest to.
I gave her a free reign - fun, cartoon, sexy, retro, whatever, and when she found the image in the top right after days and days of searching, she knew straight away it was The One. As did I when I saw it for the first time.
Anyways, I'd better be off. I have an Xmas lunch to attend. Hey! There's food involved, OK?! I'm not vetoing lunch with good friends simply because there may be Xmas crackers on the table...
October 12, 2004
wonderbras!
We closed out an amazingly successful 10 days of the 2004 Boobie-Thon at 11:59 p.m. EDT on Sunday night, October 10th.

Our total raised...drumroll please...was $8696.30. That's over $1650 more than the total take for the 2003 event!

We raised a staggering $8241.30 for the Susan G. Komen Breast Cancer Foundation during our 10-day event this year. Since the Boobie-Thon kicked off in 2002, we've raised a total of $16,178.75 for Komen!
What a fine, fine effort. Congratulations to everyone involved - donors, boobie-owners and promotors alike - for coming out in 'support' *groan* of boobies everywhere!
More »
October 09, 2004
now my boobies have been unleashed on an unsuspecting readership...

OK. I've finally done it. Done what? Submitted my boobies to the Boobie-thon, that's what!
My pic should be up in the next few hours, so go on over, check out the pics and make sure you donate something while you're there. The first person to guess which ones are mine gets a steamy night o' linklovin' and a donation made in their name from me (hint: check out my 'Revealing' skin colour scheme)!
And if you get over there quickly, the 150th person to donate gets unlimited access to nudie boobies, regardless of the donation amount (normally it's a $50 donation to get in). *wooot*
i've been unleashed on an unsuspecting readership *mwuhahaha*
I have been given the amazing, flattering and ever so slightly intimidating honour of Guest Poster by Dean Esmay at Dean's World until Tuesday.
I'm pretty sure he knows what he's in for, but does anyone else? I'm Aussie, non-political and I have a penchant for innuendo. Hmmm...
This is gonna be FUN! *rubs hands together with evil-like glee*
October 02, 2004
and the boobies are off n running...!

The third annual Blogger Boobie-thon to raise money for breast cancer research is now officially open! There are already some fabulous rack shots gracing the pages (I reckon I can pick at least one of 'em...), and mine should be up sometime over the weekend.
So go!!! Submit your tits, or donate, donate DONATE! And if you pledge $50, you get to see uncovered (anonymous) boobies in all their glory.
Hey, if it's for a good cause...
September 30, 2004
pics!
Here they are! Thanks to everyone who made requests. I've done almost all of them - except Harvey's, which was censored, and Helen's, cos I haven't gone through all my old pics yet *grin*.
Magical mikey wanted: *an aussie xmas card [1] taken xmas day 2002 - see sister Lauren's bon-bon hat, and [2] taken on xmas day 2001 at the big presents near the Brewery in Adelaide. Not cards, cos I couldn't find any, but Xmas on a summers day nonetheless.
* A toilet flushing. Although no spiral visible. Sorry!
* And a love note. Look! It even rhymes! (no rack, I'm saving that for Boobie-thon).
The lovely Rose wanted: * brekkie (it's boiled, I eat them on the bus).
* Stinky tasty stuff on toast ('cept I'm not eating toast atm, so the vegemite will just have to do).
* My fave beverage in a glass/bottle etc. I will accept lesser versions, however I prefer the best not that I've ever tasted it.
Margi, you sexay thang, wanted: * The desk, where the blogging gets done [1] [2]. Spot the mega-huge Aussie Starbucks mug. This is USB/email-enabled puter, with the ridiculously big monitor. Which is why some of these pics are prolly way too big, I lose all sense of proportion *sigh*. Sorry bout that.
* Fave shoes with feet in them. Even though Julie was good and only showed one pair, I couldn't choose (spank me)... going out killer heels [1] [2] (you can see puter 2's desk in those shots... and a sign that we perhaps shouldn't have in the house) and fave work flats/casuals.
* A prized possession, something near and dear to my heart. Well, many of the things I'm posting are indeed that (buggles, tarot decks, josie), so I give you this [1] [2] cos I simply cannot live without it. Oh. And these two don't go astray either <3 <3. The other prized 'possession' wasn't sure about having his pic on DQ. Hehe.
When all else fails, I've kept this on my fridge for 3.5 years now, ever since my sis Lauren wrote it. Yes, I have the erotic version of Magnetic Poetry. What did you expect?
Delicious Daniel wanted: * fave logo T (I'm working on it)
* Fave tarot deck. I've gone with two: the one I read most with (complete with thai silk bag and the encyclopedia Daniel wishlisted me for my birthday in June <3), and one I just had to buy cos it's so darned cool... the Limited Edition Rock n Roll Tarot. Try n spot Tory, Bjork, NIN, Pumpkins, Stipe etc.
* Our matching VW Bugs. But I had mine first. Ner.
G-Fry wanted: * Whatever toilet is closest to me right now. See above, honey.
Ms. Empress wanted: * a picture of my pet. I give you... JOSIE, THE FLUFFER! Hear her roar!
Mainey mainey Maine wanted: * A picture of me reading blogs... well, I'm behind the camera, so...
* My TV and remote control. I did take a pic, but it was crap, so this one's still on the way
* My left hand. Each to their own. Here are both hands even. Ignore the manky nails, all my frenchies came off and I'm getting them put back on tomorrow night :).
Ev baby wanted: * a whole bunch o' ridiculous stuff that, while it made me *rofl*, I'm not going to bother with. *grin*
* Fave T-shirt: vintage or classic - again, will have to get back to you cos I forgot to get into my drawers with the camera tonight! Oo er.
* My CD collection. Now, all my music is on the puter these days, I gave away most of my CD's ages ago in a fit of Spring Cleaning (sacriledge I know, but they went to a good home... rest assured they included lots of Blur, Oasis, U2, Pumpkins, Pixies, Bjork, Tori, They Might Be Giants, Sleeper, Pulp, The Cure, Garbage, Blink 182 and many other upbeat poppy things, including about 10 different 80's collections). However, this may suffice. It's my dream to have a library one day.
* A pic of me putting on my face... forgot to take the pic this morning! Coming soon to a mirror near you.
* Desserts. Looks like ice cream and fruit muffins :).
* My inbox.
* ANNNNNDDDDD..... A pic of Ev's comment. *grin*
September 22, 2004
chocolate me
I have this week discovered the delights of cookie dough, and the homebaking of said product. In fact, I may even be addicted already.
*twitch* *shiver*
However can someone tell me why the makers recommend you don't eat the dough raw? Cos if it's like, poisonous or something, I'm in some seriously deep shite.
September 21, 2004
skinny dippin'
Spring gets me thinking about beautifying all sorts of stuff (hence my Lush orders *grin*). Which you may have noticed, given the four skins (designs) I now have prettying the place up here at DQ.
So I'd already picked out an image for my next skin (to give DQ a taste of the Aussie Summer), and I sent it to Diva Cherry for her opinion, with the aim of having a go at this whole designing thing myself. Lo and behold, the sweetheart was on a slow day and skinned it all up for me as a present! Hah!
As we say in Aussie, "legend... legend... deadset legend". That means you're fucking fabulous Cherry. Everyone. Go give Cherry a hug.
I'm keeping the skin under wraps til the end of October, but check out shag.com and see if you can't find my source image.
Meanwhile, Julie has been most busy designing up the holiday skin I was lucky enough to score via this moxie special. Without giving too much away (although it is about the place in portfolios and the like), this skin will have you thinking 'cheeky' thoughts about Xmas 'stocking stuffers'. *wink*
THANK YOU JULIE!
Ooo er! I'm almost looking forward to Xmas now. *naughty grin*
September 20, 2004
lush-TASTIC!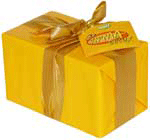 Remember the entry I wrote last week, featuring Lush Cosmetics in juxtaposition to nasty big corporate conglomerates who have lost sight of their customers among other things?
Well, right now I'm a little speechless... you see, I had been busy figuring out what I wanted to buy from Lush, which inspired the post. Then I sent the lush.au team a link to said post, mainly cos I'm a pr/marketing girl myself and I like to know when I'm spanking my target audience in a manner that pleases them. I figured they would too.
I was right. And apparently they liked it.
In fact, they liked it so much that when they packed up my order, they thought to drop a little something (with a 5ml perfume instead of the 30ml in the link) in the box along with everything else!
*does cartwheels around the house*
THANK YOU Lush! THANK YOU THANK YOU THANK YOU! Now there's a company who knows how to do business - by keeping their customers happy (and not just with their heavenly aromatherapy). I know I'll certainly be telling more people in Adelaide to start ordering online. And it's not like they had to convince me. I was already a loyal customer. The products are unique and quite frankly sell themselves.
And if that's not enough to convince you of their coolness, no-one can resist a company with hilariously in-depth answers to questions like "Why did Nostradamus get it wrong and how far out do you think he was?", "Which dog has the deepest woof?", "How do you explain the current slump in the American economy?", and "Are you lot bonkers or what?" in their FAQ.
See? Kewler than Fonzie.
September 13, 2004
loving thoughts
After my time off, I'm starting to remember why I loved the internet, and particularly blogging, again.
I love that I can meet people like this in a far off land who have similar views and ideas to me.
I love that I can wake up and find a brand new, simply beautiful skin layout just waiting to surprise me from this chick or this chick.\
And I love that this guy has me chuckling at 6.30 in the morning (no mean feat, I assure you) because he linked to a site called 'Junk Food News' (because junk food obviously requires its own news page) in a comment on this entry. And Harv, yes a Breakaway is not unlike a KitKat (which we have here also). There's a version of the Breakaway in a format similar to the chunky KitKat. However, where Breakaway beats KitKat hands down is in the amount of chocolate surrounding the wafers in the big blocked version. No contest.
See? And I love that can deconstruct chocolate online and people may actually agree with me.
Case closed. I'm back.
September 11, 2004
making a grand entrance
I have a couple of different sides to me. Sometimes it causes problems, but mainly it just means I get enough variety in my day to keep me interested.
For example, the side with a little more devil in it had certain ideas for my first three skins: flirty, cheeky, fun yet classic.
And the side with a little more halo adores this classy new creation by Julie of blogmoxie: clean, stylish and downright glam.
Yep. Now I really do have something to keep both the horns and the halos happy.
You've outdone yourself Julie. And so quickly too! Thanks to the moxie team for such fabulous service - you girls sure know how to run a business!
And if you wanna get some moxie, now is the best time to do it with this fabulous holiday special. I can hardly wait to see what Julie comes up with for my holiday request...
*cheeky grin*
September 09, 2004
fits like a second (and third) skin
Being a Gemini girl, I like variety. I'm also notorious for my inability to make a decision. Hey, I can see beauty in just about anything, mkay.
So when I found not one, but three pics I just adored while surfing for images for Cherry to use when designing my my new layout... well. I could hardly go with just one. I was actually very pleased with myself for narrowing it down to three pics in the first place.
And after a week of hard work on Cherry's part (and of hard indecision on my part), I am uber-proud to present to you two more dq layouts.
Click here for a damn good spanking, or here for something a teeny bit wet 'n' sticky. Or why not try the 'skin me' drop down box in the 'about me' section, even.
Yeah baby. Just the way I like it.
So what are you waiting for?! Go chat to the Divas about a wickedly brilliant makeover. Seriously, you'll be glad you did. I feel like a brand new dramaqueen =D.
September 07, 2004
a wonderful new me
*slinks secretly in*
*slips seductively into her stylish and ever-so-slightly salacious new skin*
Welcome to the All New dqHQ... won't you stay a while for my skin-warming party? *oo-er*
What do you think of the place? Bit of Billie Holliday playing over here, some organza thrown over the dressing screen over there... and a Gin 'n' Tonic with Extra Lemon for everyone who comes through the door.
What's that? You'd like to know who my decorator is? Why, none other than the delectable Cherry at Web Divas. Do have a look at their portfolio and brilliant specials, and make sure you tell them goldie sent ya.
And Cherry, thanks for your fabulous work and for being so patient with all my tweaks and template issues. You're just fabulous hon!
cherry blossoms in the breeze
Ahhh. I love September.
Spring has definitely started sprung-ing. The Royal Adelaide Show is in full swing (complete with the All New, All Amazing Pig Diving Act!). Most of my herbs n veggies are in pots (basil, sage, capsicum [or bell peppers to the uninitiated], garlic and roman strawberries, but there wasn't any spring onion *horror*). The cherry blossoms are out in Pennington Gardens. It stays light after 6pm. I gallavanted saucily about in a vintage singlet top on Saturday night and was actually hot (...temperature-wise, that is). And my lil sis has even fallen in love (amazing how positive that is for the immune system).
And... most critically important of all...
The new season TV shows are finally here. Which means 6 Feet Under (in the cult 10.30pm channel 9 timeslot usually occupied by either it or the Sopranos... I'm still on a high from the first episode, which I just watched), Survivor Vanuatu (cannibals eat your heart out), and ... Australian Idol.
My money's on Chanel and/or Marty to inherit the crown - a modest vintage princess in the vein of Bjork and a versatile chrome dome with no problems being himself. I don't know about you...
September 06, 2004
beauty in it's purest form
Dean Esmay has a gorgeous deconstruction of female beauty through the ages, based in art and photography.
Sometimes a picture really is worth a thousand words.